Christ Slayer, The (PG-13)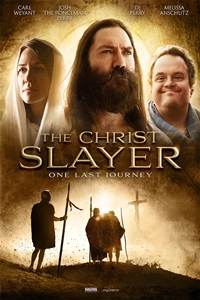 Synopsis
The final film in the Quest Trilogy, focusing on the love and sacrifices of Christ.

The Christ Slayer depicts the legend passed down through the ages about the Roman centurion who is responsible for the death of Christ by striking him in the side with a spear. Though he is unnamed in the gospels, The Christ Slayer follows the Catholic tradition, which has sainted him, and called him Longinus (Carl Weyant). Throughout history this story has been told with varying alterations, and in one version Longinus is thought to be blind. Hence this movie depicts him as completely blind, wearing a band of cloth around his eyes throughout.

Bullied by his peers, the protagonist is forced to pierce Christ with the spear that kills him; thus, earning the name Christ Slayer, for which people both taunt him and revere him. However, upon this event, Longinus enters a spiritual and moral crisis, and though he falls in love soon after this incident, he is determined to travel to his hometown where he will end his life as he becomes increasingly convinced that he has killed the actual son of God.
Details
Drama
December 31st, 1969
Cast
Carl Weyant
Josh Perry
DJ Perry
Director
Nathaniel Nose
Writer
DJ Perry